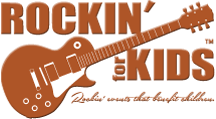 What do you get when you combine a strong passion for music, philanthropy and underprivileged children needing help? Rockin' for Kids!
After years of bouncing around from one cause to another, it became clear what our true calling was.
With our resources, venues and music partners, we now have the unique opportunity to help children's programs and organizations on a much larger scale while producing amazing, rockin' musical events!
Want to join us? Check out our Facebook page to receive up to the minute updates!

Our mission is to enhance the lives of Arizona's needy children, one Rockin' Event at a time!
Board of Directors
Don Yates – Founder / Chairman
Kellie Kuhn Whitaker – Executive Director
Karlyn Evans – Honorary Board Member
Advisory Board
Susan Fox – Volunteer Coordinator
Darrell White
Rick Black
Rockin' for Kids is a 501(c)(3) Foundation. Your donation is tax deductible.
Check with your accountant for details.

The "Crew" that makes things happen!
Front row: Kellie, Karlyn, Don, Tucker, Julie, Barbara and Missy.
Back row: Dean, Jerre, Lesa, Fred, Darrell and G.
Not pictured is Rick "Santa" Black.